About Liz Heron
Private practice 1981-2012
Liz Heron Ed.D. is an educator and mentor for children and adults with learning differences with 35 years of experience supporting students and their families. She helps people who learn differently find the way to succeed.  People who work with Liz might be described as gifted, unusual, puzzling, hilarious, frozen, artistic, great with animals, different, anxious, visual, non-verbal, dyslexic, sensitive, impossible, ADD/ADHD, exuberant, slow speed learners, deep thinkers, autistic, traumatized, very quiet, angry, socially awkward or just plain wonderful.  
She teaches reading and writing for students from kindergarten through graduate school. 
Liz encourages communication through inquiry, helping students and families communicate with each other and with the schools and communities in which they live. She supports students as they develop the ability to express themselves and to self advocate. 
Liz helps students learn to regulate their nervous system through body-based practices that are useful in learning to balance anxiety, hyperactivity and difficulties with processing speed. She is certified in trauma therapy and biodynamic cranial sacral therapy. Support includes private sessions and instruction, on-site collaboration with school, home and community, regular communication with therapists and medical personnel when necessary.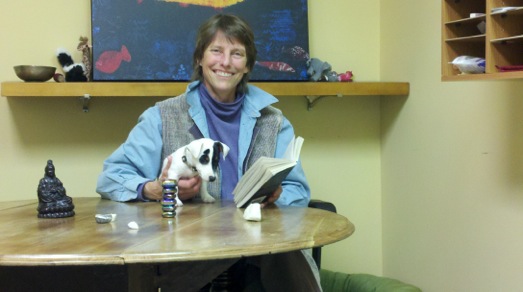 Liz has consulted with public and private schools in Maine, New Hampshire, Vermont and Massachusetts. 
With Liz you can:
Find out what you love and want to do.
Learn to read and write well and see the results.
Slow down and learn subjects well enough to write clearly.
Write your college essay.

 

Finish your dissertation.

 

Create study habits that feel right to you.

 

Learn to move while you are studying.
Use the computer and your phone to stay organized and on task.
Find the right college or school placement.

 

Talk to your parent and teachers effectively.


Education
Harvard Graduate School of Education, Cambridge, MA — Ed.D. Reading, Language and Learning Disabilities Advisor: Jeanne S. Chall, 1989
University of New Hampshire, Durham, NH— M.A.T. in English.  Minor:  Applied Linguistics/ESL, 1981
Radcliffe College, Harvard University, Cambridge, MA — B.A. magna cum laude, History and Literature of Ancient Greece, 1977
Current Certifications:  
Department of Education, New Hampshire Certifications:  Reading and Writing Specialist; English 5-12. Certification # 18001.
Somatic Experiencing Trauma Institute: Certified Somatic Experiencing Practitioner, http://www.traumahealing.com
Biodynamic Craniosacral Therapy Association of North America: Registered Biodynamic Craniosacral TherapistCurrently serving on the Board of Directors http://www.craniosacraltherapy.org/CSTA_home.html 
Liz has taught at the following schools and Universities:
Alba International School, Florence, Italy
Winnucunnet High School, Hampton NH
Odyssey House, Hampton NH
Sweetser Children's Home Saco, ME
University of New Hampshire Education Department, Durham NH
Liberal Arts College, Academic Skills Department University of Massachusetts, Boston
College of Public and Community Service, Critical Skills Program University of Massachusetts, Boston
School for International Training, Brattleboro VT
Roxbury Community College, Workplace Literacy Education Project, Roxbury, MA
Institute on Disability, University of NH, Durham NH
Lesley College, Graduate School/Outreach and Alternative Education Program
---
Liz Heron's complete CV in PDF Form is here.